Description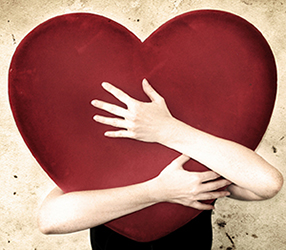 Path Of the Heart Weekend Intensive September 7, 2018
"One of the most courageous decisions you'll ever make is to finally let go of what is hurting your heart and soul." ~ Brigitte Nicole  
"If we can share our story with someone who responds with empathy and understanding, shame can't survive." ~  Brene Brown
The Path Of the Heart Intensive is about reclaiming the authentic Self. If you would like to find personal peace, release past issues that continue to weigh you down, and reclaim your right to feel good about life then this weekend is for you. The results of participating in one of these intensives can be exponential. Expect to jump 3- 6 months ahead in your healing journey.   These events are called Intensives because they accomplish an immense amount of work in a short amount of time. The Path of the Heart Intensive is modeled after The Meadow's Survivor's Week, created by  Pia Mellody, author of Facing Codependency, and after the Breaking Free Intensive at Shades of Hope Treatment Center.  The longest eighteen inches in the world is the space between the head and the heart. Rebecca will assist you in moving into the heart by reclaiming feelings, renewing your commitment to life, and learning how to step into your Wise Woman/Man self.  Until the child within is healed the Wise Self will struggle to come forward.  During this intensive we will investigate the origins of adult dysfunctional behaviors (i.e., addictions, relationship issues, depression, anxiety, etc.).  Participants will take an in-depth look at their history, including childhood wounds which fuel adult dysfunction.  The focus is not on blaming caregivers, but rather on healing the trauma and its residual effects. The goal of the intensive is to work on the resolution of trauma and to give back carried feelings incurred from principal caregivers during less-than-nurturing events, abuse, abandonment, enmeshment, and neglect.
Do you sometimes feel as if you are on the outside looking in?
Do you desire awareness about why you continually attract unavailable people?
Do you have unsatisfying, dysfunctional relationships?
Have you been told or have you begun to realize that you do not know how to set boundaries with others or with yourself?
Do you have persistent feelings of victimization? "Why me?", "Nothing good ever happens to me.", "Will I ever get over my past?"
Do you have feelings of anger, shame (inadequacy), loneliness, guilt, or sadness/emotional pain?
Have you longed for peace and closure around your family of origin and early experiences?
Do you suffer from depression, self-doubt, dissatisfaction, and hopelessness?
Do you have addictions of your own or seem to attract others who do?
With her skills in counseling, guided imagery, meditation, Gestalt and experiential techniques Rebecca can help you break free of the past and experience the freedom to move fully forward. This weekend is about you, exploring your inner dialogue and finding your voice. Within the safety and validation of the small group process, you will share your story and release pent-up emotions.   From 1999 to 2002 Rebecca worked closely with Tennie McCarty and Cindy Henson as a therapist at Shades of Hope Treatment Center. Tennie and Cindy are highly regarded as master therapists in their fields and recently Tennie has enjoyed acclaim due to her reality-based TV show Addicted To Food on Oprah's OWN Network, as well as appearances on Dr. Oz and Intervention. During her work at Shades of Hope, Rebecca facilitated Family Week, the 5 Day Eating Disorder Intensive, and co-facilitated the Breaking Free Intensive with both Tennie and Cindy. This Intensive is for those seeking empowerment through inner healing around codependency, dysfunctional family, family of origin, inner child, traumatic events, love addiction, love avoidance, serial, painful and abusive relationships, and life transition issues. If you are not currently working with Rebecca individually, please call to discuss your inclusion in the intensive.
"The Path of the Heart Intensive is exactly what it says.  Rebecca uses her amazing insight and skills to guide you through the murky waters of your soul to the reality of dealing with your emotions.  On the first day, I was totally exhausted from the turmoil stirred up within me, only being released by Rebecca's expert guidance. The last day was very healing and soothing as we all came down from the emotional roller coaster we had been on. Rebecca is an amazing counselor and I really believe that God brought us together for a reason.  I have learned so much about myself, my inner child, co-dependency and how NOT to remain a victim.  I recommended her to a friend before I ever even got to the Intensive weekend. Before finding Rebecca, I had been in severe depression for a couple of years. Immediately, I felt like we were the perfect match to begin my healing process.  Through her expert guidance, I learned about co-dependence, my inner child's pain, and how to begin to name my feelings, enabling me to eventually understand that my problems were indeed, rooted in my past.  The past was what hit me the hardest in my Intensive Weekend.  It was a hard thing….having to go through some of the pain to get to the understanding of why I was where I was.  Rebecca tugged and pushed and prodded forcing me to deal with my issues head-on.  There were four of us there for the weekend and I thought that would be awful, but we were able to learn from each other and lean on each other.  I would recommend the weekend to anyone wanting to experience some quality healing in a short time.  
My life now, after the Intensive Weekend and more follow up time with Rebecca, has left me feeling wiser, healthier, more confident and ready to take on the world on my own steam.  I don't have to depend on anyone to make me feel anything.  It comes from within. Thanks, Rebecca for the umpteenth time, for all you have done for me!" ….. S.V.B, Texas
Date: (Intensives fill quickly. Register early)
Cost: $950   Meals are on your own and snacks are provided throughout the weekend. Includes phone session pre-Intensive for those coming from out of town or not already working with Rebecca. This session is to answer questions and discuss your possible participation in the event.)
Time: Friday morning 11am till Sunday mid-afternoon. Accommodations are not included. If you live locally but do not live alone, it can be beneficial for you to stay in a hotel for the duration of the Intensive, so you can be alone to process the Intensive material. Having quiet time apart from the responsibilities of spouses, children, roommates, etc., is important. Each case should be evaluated on its own. Please expect long hours on Friday and Saturday. We end on Sunday when we are finished. Care will be taken for anyone making flights. Discuss with Rebecca before booking flights.
Group size: 3-5 participants
Location: Intensives are held at Rebecca's residence in SW Fort Worth. Expect a comfortable and safe space.
Cancellation policy: Full refund 30 days + before the event. 50% refund 29-15 days before the event. All refunds are less $100 non-refundable deposit. No refunds after 14 days before the event. In the event, the facilitator has to cancel the event all monies will be refunded or applied to next scheduled Intensive.
Plese, note this Intensive is open to women and men. Most groups tend to be all women but men are welcome to join this event. Having a mixed gender group for this work is very healing for both. If you are seeking a women-only group please let Rebecca know. Occasionally she offers a men-only Intensive.
~ Participant Reviews ~
"I had a deep, enriching experience in Rebecca's intensive workshop. I felt very safe with the women she chose to put together for my group. Rebecca is an amazing facilitator in that she is so compassionate and loving, yet she is direct and precise. I came away with a much better understanding of and belief in my self-worth. I felt the courage to face some things I hadn't been willing to deal with, and a transformation has since taken place that has brought me much more peace in my life." …. S.B., Texas
"Right away I want to say I almost bailed hours from the starting time of the Intensive because my fears came up for me big time. And if not for Rebecca talking me through I would have missed a huge healing opportunity in my life. So for anyone feeling fears my advice is to REACH OUT to Rebecca. Do Not let fear stop you. This experience was so powerful for me, and I am proud of anyone who can be so courageous !! After the first night, I made the decision to give my all and not hold anything back as I do so much in my life. Now I can not say all my fears went away after that one weekend, but I am definitely more conscious of the times I am running away, putting my head in the sand, overeating in order to numb or try to stop the pain of shame and anger, or of when I step onto the Victim Triangle. We are blessed to have Rebecca to lovingly support us as We walk our paths to be the wild warrior woman that we are." …. K. S., Texas